Testimonials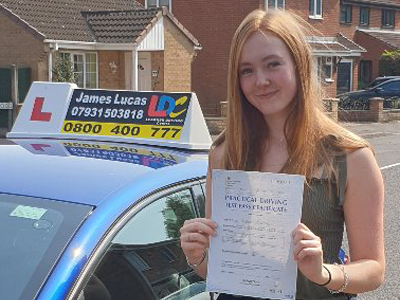 Sophie Rouse
First Time Pass
Honestly the best driving instructor out there!! James is both lovely and nurturing and helped me so much! I was extremely nervous when starting and he built up both my confidence and ability and I feel ready to tackle the roads by myself!! Thank you so much James and I definitely recommend 😁 Instructors Reply: You are more than welcome. Its been a pleasure to help you develop into a safe confident driver. Drive safely and I look forward to seeing you out and about 😊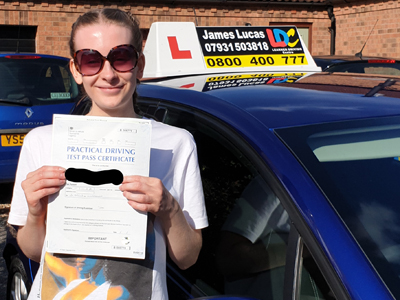 Caitlin Cook
First Time Pass
I put off learning to drive for months as I was so nervous about it, but James has been brilliant and helped me become a confident driver. Passed my test today first time and couldn't be happier! Thank you so much.
Rionagh Ickinger
Happy Days
I enjoyed my time learning how to drive with James while I was at university and I can't thank him enough for making me feel confident in my driving and providing me with skills that make me a safe driver. He is also calm, bubbly and easy to have a conversation with. I would highly recommend James to anyone, especially university students looking for an instructor while studying and if you're nervous about driving as he is very good at making you feel safe and comfortable.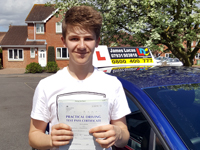 Joshua Osborn
Passed 1st time
I passed my test first time with only two minor faults. I would recommend James as a driving instructor to anybody. He is very patient and puts you at ease. I was very nervous to start with but James helped to build my confidence up. He explains the lessons well and even if I made a mistake he explained what I did wrong and what I needed to do to correct it. The lessons are interesting and as you progress from the basic skills, James asks you what you feel you need to work on. This helps you build more confidence in the areas you feel you need to improve on. James also has a great sense of humour and always makes the lessons enjoyable. Thank you James.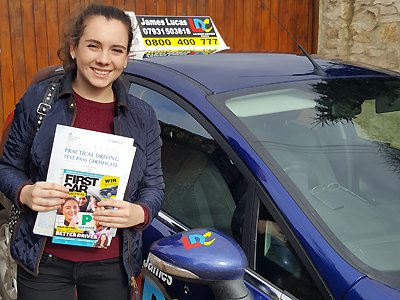 Sophie Russell
Passed 1st time
The semi-intensive course is amazing and I would highly recommend it with James. I couldn't have passed my test first time if it hadn't been for James my driving instructor. He is calm and encouraging but is also firm when needed. I found the LDC workbook and dvd really helpful to reinforce what I had learnt in my lessons. James definitely knows how to build confidence in people with their driving and to feel safe on the road with others. Thank you James. :) Thank you Sophie for your comments. It was a pleasure to help you achieve your first time pass in only nine days, you used the materials that came with the course well and always tried your best with a lot of intelligent questions. I wish you many years of safe and enjoyable driving :) James.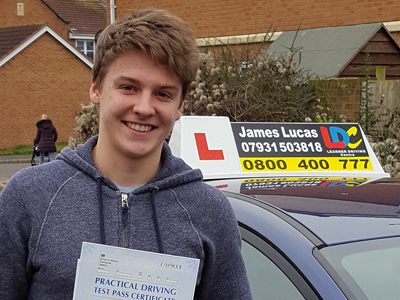 Jack Skiba
James is the kind of person who you just can't help but like. His sense of humour makes learning to drive enjoyable, yet he can still be firm, understanding and supportive. I also found the LDC system to be extremely helpful as it gave me a clear understanding of which aspects of driving I could do, and which parts needed more work. It's structured approach simplified something that originally seemed daunting into steps that could be worked through with ease. I couldn't be happier that I learnt to drive with James and would recommend him to anyone looking for a brilliant instructor.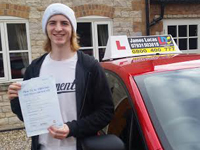 Mike Denby
Happy aysD
Hi James, This is Mike (ex-student). Just messaging to let you know that I'm still thankful for the effort you put into teaching me to drive! You are a fantastic instructor. You didn't let me get away with anything, you took my driving seriously and you were equally firm and encouraging. I'm still driving, I haven't had any bumps, I still have 0 points on my licence and I'm feeling more confident every time I get in my car, because of you. Thanks James!
William Evans
Before starting with James I had been learning to drive for two years. I was very nervous and had previous instructors that were not as patient and understanding. I got to a point where I thought driving was not for me. Being with James for just a few months has made me a confident and safe driver who actually enjoys driving. I highly recommend him if to wanna ditch the nerves and get passed. Thank again James!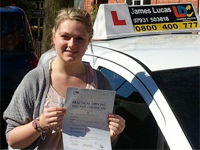 Chloe Wilson
James, Thank you for helping me pass my test by helping my confidence to return after other instructors had dampened it. You are a kind, sincere but firm instructor. The LDC book came in really handy as i could track my progress and also quiz myself after each section. If anyone is thinking about learning to drive i would definitely recommend James. Once again thank you so much for helping me pass my test :)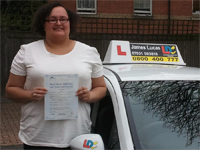 Rebecca Greengrass
I passed my test - first time - after doing a semi-intensive course (over two weeks) with LDC. James was my instructor and despite my initial nerves, he put me at ease right away with his natural friendliness and sense of humour.
The first lesson was a pleasant surprise to me, probably due to the LDC workbook and DVD, there was none of the usual talking for half an hour by the roadside that I had come to expect from driving lessons with other schools. Though there were explanations of what we were going to cover, this was done quickly and James explained in more depth as I did them so I could understand how the theory of what he said applied to the practical side straight away.
I really like the LDC system because it gives you goals, clearly sets out the areas where you may be struggling/still need prompting (for me it was checking the left mirror a lot of the time) and gave you an over all view of how much more you needed to learn before you could be considered ready to take your test. James went through the workbook at the end of lessons and we marked off together where we thought I was at.
James was excellent at confidence building and had a lot of patience. He did not get annoyed if there was something you didn't understand and always took the time to explain anything you had handled in the wrong way or that he felt you could do better. I frequently told him I was crap and he, just as frequently, told me I wasn't - and eventually I believed him.
To pass your test, you need a level of confidence in your abilities that James provides, as well as the driving skills that he teaches to a high standard. This helps you feel happy about going out on your own afterwards. The good thing about James is that he will not put you forward for your test unless he is 95%+ sure that you will pass it, which means your mind is at ease regarding the test fee.
He will push you and he will expect you to make the effort during your lessons but as he gives you 110%, I was glad to do so.
The winning combination of James as my instructor and the LDC learning materials have made me a confident, safe driver and I would really recommend this system (and James) above any other. He is excellent and it was a pleasure to learn with him - the only downside is that once you pass, you don't get to spend two hours a day enjoying his company!
Thank you James for making this such an enjoyable, informative and worthwhile journey. I will look back fondly on my learning experience and suggest you to anyone who is learning in the future.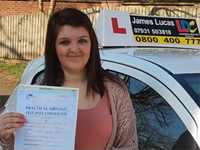 Emily Brettle
I would recommend James as a driving instructor to anybody, he's calm & encouraging and made me feel at ease every single lesson. He made sure every aspect was covered and corrected any faults with a good explanation. The LDC Workbook & DVD was beneficial to me too as i could track my own progress and look up anything i wasn't sure of. Once again thank you very much James !! :)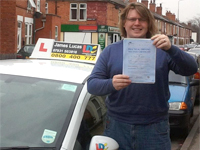 Paul Stevens
James is a great teacher. I have taken lessons with other instructors and none were a patch on James. His patient and calm manner made learning enjoyable. He managed to iron out all previous issues I had picked up in the past. If you are thinking about learning to drive then I strongly recommend that you contact James. I believe his teaching enabled me to pass my test and made a better driver in the process. Thanks again for everything.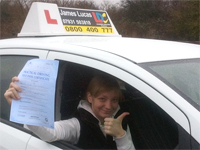 Louise Bryant
James really is a wonderful driving instructor, and has the patients of a saint! I say this as when I started to learn to drive I was very nervous up to the point when I saw something (even if there was absolutely no chance of it crashing into the car) I stopped, James helped not only teach me how to drive but also helped build up my very confidence which I had very little of, which I am so grateful for. Towards the end of my training I really noticed the change in my confidence and my ability, as driving really is a multi task on a level all on its own. I would seriously recommend him to anyone who wants to learn to drive as he didn't just get me to pass my test but also my brother, who is very different and always seemed more confident than I felt. I will miss the lessons and they went around my personal life, like starting a lesson from where I work or home etc., He is very friendly, never shouts but will let you know what you did wrong, in a friendly way, then work out why it happened then go over what you should have done while doing it again, he is a wonderful and kind teacher.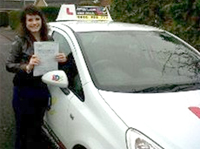 Heidi Hutchinson
Would like to say a big thank you James for teaching me to drive and helping me to pass my test, I've really enjoyed having my lessons with you and always felt you were happy to help me and always making me feel comfortable when learning, I will miss having my lessons and seeing you all the time. The LDC workbook and DVD has also helped a great deal for me as it helped me with any little doubts or questions I had before my lessons and is a structured in a easy understanding way. Thank you so much and I hope to keep in touch:)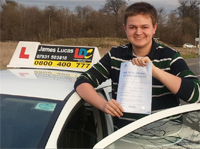 Luc Chignell
I've really enjoyed learning to drive with James; in fact the worst bit about passing my test is that I won't be able to carry on doing it anymore! He is always patient and reassuring and made me feel comfortable during lessons - I felt happy to ask him about anything I was having trouble with and he always knew the way to correct it. The LDC workbook was also very helpful as it gave a structure to my training and allowed me to monitor my progress. I could never have imagined passing my test a few months ago when I was nervously crawling my way through Newark but James has helped it happen! Thanks so much James!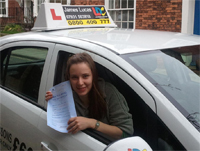 Helen Vincent
I am extremely happy with my experience of having James as an instructor. He was friendly, patient and had a good sense of humour. I always felt safe on driving lessons and felt that I could discuss anything in order to improve my driving safety and experience. James was always open to ideas and thoughts and made sure that he gave time for me to ask any questions. I never had the impression that I was being rushed into learning in time for the test and was able to relax into taking it at my own pace. James' positive and encouraging attitude certainly helped me to pass my test first time and I will never forget the friendship and advice he gave me.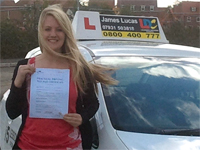 Katy Moore
James is a fantastic, calm and encouraging instructor that helped me build confidence with his patient and positive nature! With James, I could see my progress each lesson, and always looked forward to another! I passed after 6 weeks first time with only 2 minors. and was chuffed! Thank you James, an amazing teacher! :)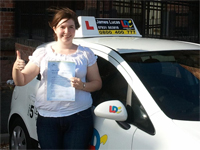 Jessica Welby
I really enjoyed driving with James - he helped me to smooth out all the rough edges left from working with my previous instructor. Thanks to him, I passed first time and, even more importantly, I am a confident and safe driver now that I'm out on my own! Thanks James!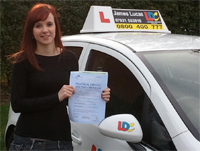 Danielle Parkes
I don't think I would be even driving now if it wasn't for James, he made me feel comfortable from day one. He's extremely patient due to taking me ages to get the hang of it in the beginning. I have found it not only achieving but it has been a fun experience and its only taken me four months with the excellent teaching :) The LDC workbook & DVD really helped me, and thank you for all of your help and making me believe I can achieve it. MSPSG!! Ill never forget it. Thanks your brilliant. :)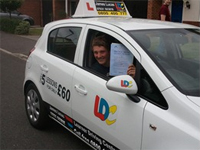 Elliott Mackinnon
James is an excellent driving instructor. Full of enthusiasm and motivation to see his student strive for success. This was accompanied with the excellent LDC Workbook and DVD which laid out the lesson plans before you got in the car. Saw a friendship build and passed my driving test in under a week with only 5 minor faults. A top man and even better driving instructor. Thanks James.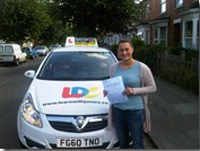 Roxanne Evans
I was really worried about learning to drive but James put me at ease from day 1. He is really patient, even with my endless and repetitive questions, and always explained everything carefully. You get a LDC workbook and DVD with the course which is really helpful as you can see what you will be doing beforehand and can have any questions ready before the lesson even begins. I would recommend the semi-intensive course to anyone as it is a set amount of hours but with a flexible time frame. Thanks James you're a star.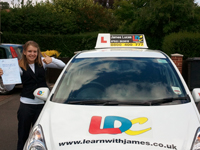 Jennie Scrimshaw
I would recommend James as a driving instructor to anybody. He is extremely patient and very friendly which I personally feel is essential when learning how to drive. James is thorough in his teaching, ensuring every aspect is covered and if there's something you don't understand first time around, he will try a different way of explaining it to make sure you feel confident in what you are doing. The quality of his lessons are consistent and from my experience he has been very flexible with regards to booking lessons around my schedule. I cannot recommend James enough and will even be continuing my learning with him to complete the pass plus course.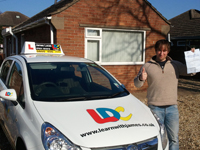 Christopher Healey
I started with James's Driving School after a long stint with another instructor. So I was very nervous about doing it all over again but was very pleased by the standards and professionalism of my instructor. Patient and relaxed he guided me through the difficult areas and made me feel confident to take the test. I was over the moon to pass the test first time with only 3 minor fault's and its all down to the training I received. Thank you James for getting me on the road.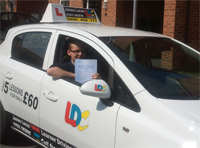 Daniel Bojanski
I would like to thank you again for the amazing driving lessons you gave me, that led me into passing my exam!
All the lessons we had were very informative, professional and everything was surrounded in a friendly environment which for me was a key to my learning. I loved the fact that we didn't have to stop at the side of the road for most of the lesson as some other instructor do.
Thank you for always being honest and wish you all the best in your fantastic business. I will most definitely recommend you to any one who is about to get himself on the road!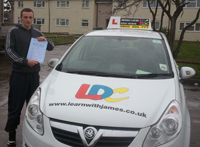 Matthew Meakin
James makes sure his lessons are taught in a calm and patient manner, he corrects any faults with a good explanation and points out the dangers of doing it wrong. I am pleased to say that this has helped my pass the test at the first attempt Cheers James.
Call today on 07931 503818 or Email me to find out more
If you have any questions or to book lessons today, feel free to contact me